Vintage posters of Brittany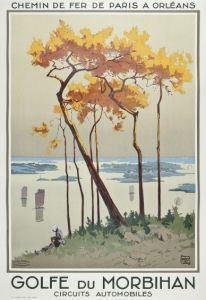 Barclay Samson is proud to show this is on-line selling exhibition of original vintage posters of Brittany in France. These posters illustrate a Brittany of the past. They date from the 1900?s to the 1950?s and show how we would have travelled, dressed, places we would be enticed to visit, our habits. They are a reflection of a bygone life much like present day posters illustrate our wants and needs of today.
The "Semaine du Golfe" will take place from the 30th of May to the 5th of June 2011. This international nautic event is the major place for a lot of sailing lovers of the Golfe of Morbihan, on land or sea. To celebrate this event our way, and to be able to go on water by boat, we chose a few poster whoose theme is Britain. The most of this exposition shows advertisements for different french road or railroad companies, from the first half of the twentieth century. We will let you enjoy the quality of these old posters, and are at your service if you want to buy or offer one of those as a gift.