THE GOLDEN AGE OF BRITISH TRAVEL
A special exhibition of travel posters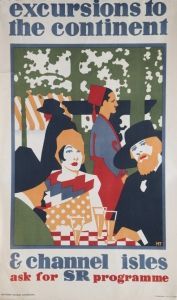 The Golden Age of travel was travelling on the British Railway system during the 20's and 30's, even through to the late 40's till early 60's is was always a treat. Sitting back and relaxing, going to the dining car and being served well and with silverware was always special! The train may not have been the most punctual but was the most enjoyable.
In the 20's till late 40's the traveller was served by the "Big four" LMS (London Midland Scotland); GWR (Great Western Railway or even God's Wonderful Railway!) LNER (London North Eastern Railway) and Southern. These were all brought together into British Railways in 1948/49.
To lure the public to places and use the trains, posters were extensively used. Destinations were obviously put forward as were areas; Ilfracombe, Cleethorpes, Bexhill-on-Sea, or even Plymouth, Devon, Yorkshire and Essex to name a few. The sea is always blue, the people beautiful, the seascape enticing, everything was used to get you to enjoy the location and of course use their services.
Browse this exhibition there are some exciting examples with pertinent commentaries against each you will be transposed to a bygone era.