Mad March Hares, new acquisitions, events!!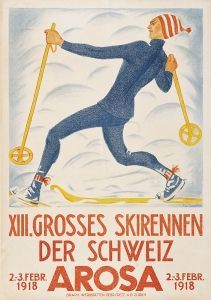 With this March On-line exhibition you will see some of our new stock! Some famous, rare and exiting new images.
During this skiing period there are several fabulous posters for the aficionados but also Cat lovers must look at the images done by Theophile Alexander Steinlen.
Photographers, Musicians, Aviators, Ballroom Dancers will all find something of interest. Even brothel frequenters, Ice Rink skaters will be able to browse and enjoy. Don't forget that Posters are images of their time. If you had stopped for a leisurely tea at the Café Lurion in Vienna in 1903 the Ladies would have been dressed like that. Flying was a dangerous sport and a cold one too, so warm flying suits were needed.
Enjoy yourselves, ask questions we are here to help and explain.
These original vintage posters are just a sample of our inventory, please browse our website, and even give us a "like" on Facebook.
ALSO
We are doing the
Chicago International Vintage Poster Fair
at the
Chicago Cultural Center, 78 East Washington.
Friday, March 28, 2014 5-9pm
Saturday, March 29, 2014 10am-7pm
Sunday, March 30, 2014 11am-6pm
So come and visit us we will have other new things for you.